Do you know the difference between bookkeeping and accounting? Did you know that they are, in fact, not the same thing?
Today, I'll be sharing the main differences between bookkeeping and accounting. While there are definite similarities, they are two separate functions.
Let's start with bookkeeping!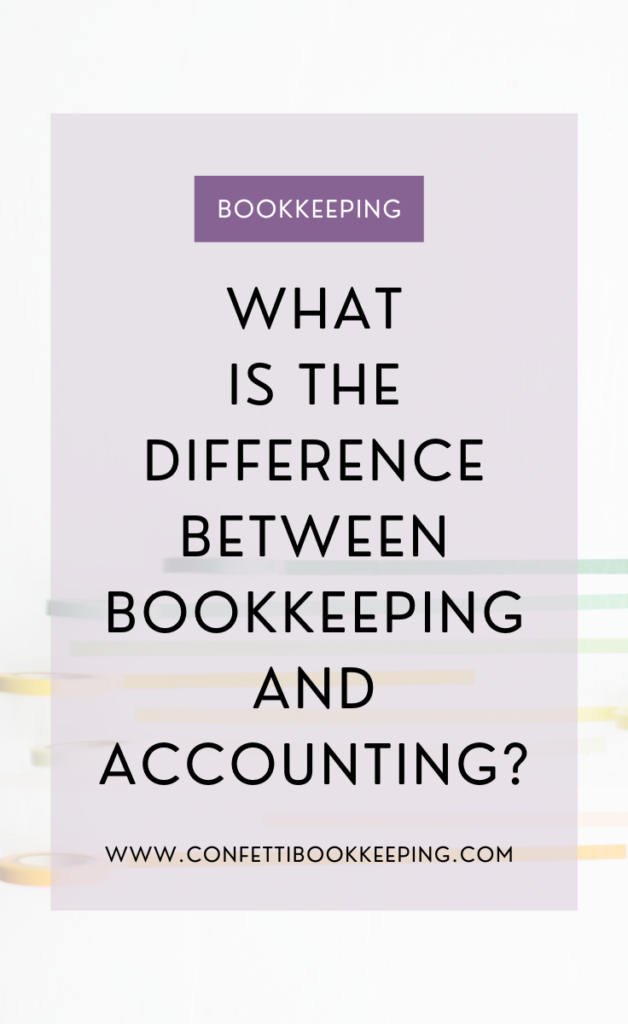 What is Bookkeeping?
Bookkeeping is defined as "the activity or occupation of keeping records of the financial affairs of a business."
A bookkeeper's job is to record financial transactions, classify, and summarize financial data. The bookkeeper's goal is to keep the records organized and systematic.
Here is a short list of bookkeeping responsibilities:
Recording financial transactions
Posting debits and credits
Producing invoices
Maintaining and balancing accounts
Running payroll
Maintaining the accounts is one of the primary responsibilities of a bookkeeper. This is where the bookkeeper records every transaction from sale and expense receipts.
Do you wear the Bookkeeper hat for your business? There's an awesome Bookkeeping Checklist on our website.
What is Accounting?
The definition of accounting is the action or process of keeping financial accounts.
In other words, bookkeeping is the recording of financial transactions. Accounting is the analysis, reporting, and summary of the financial data.
An accountant's goal is to communicate the company's financial situation. This helps the business owner make important business decisions.
Accounting responsibilities include:
Preparing adjusting entries
Preparing company financial statements
Analyzing costs of operations
Completing income tax returns
Helping the business owner understand the impact of financial decisions
Accounting requires special skills to analyze and interpret data. It's much more subjective than bookkeeping. Accountants can prepare budgets and financial statements.
Accountants with a certain level of experience and education can obtain the title of Certified Public Accountant (CPA).
While accountants can complete bookkeeping tasks, bookkeepers cannot complete all accounting tasks.
The importance of accounting and bookkeeping in your creative business
It's critical to keep accurate, organized financial records and balanced finances. A detailed bookkeeper and analytical accountant make a great team for any small business.
While it's possible for business owners to manage their bookkeeping and accounting, many choose to hire a professional. In doing so, they can focus on growing their business and best serve their clients.
Outsourcing to a professional ensures that your records (or "books") are accurate. You'll be able to grow and scale your business with confidence.
I'll work with you to make sure you're making the most of tax-deductible expenses. If you have payroll, I can help you process that, too. And every month, you'll get a monthly snapshot of your business finances.
Want to learn more about bookkeeping services? Check out the services page!